INTERVIEWING Ginger Baker — for whom I have the greatest respect as a musician following a rehearsal in the basement of London's Revolution club for his new band 'Airforce' proved to be a mutual displeasure to us both.
The most enjoyable aspect of the interview for me was listening to the talents of Stevie Winwood (organ who still manages to smile through his life and cry through his music, Harold McNair and Chris Woods (saxes) Denny Lame (guitar) Remikabaka (congo drurns and Rick Grech (bass -- excused rehearsal on this occasion were Graham Bond (alto) vocalist Jeanette Jacobs and drummer Phil Seamen.
Ginger rolled, thrashed and whisked about his multitude of cymbals and drums with abandon and occasionally punctuated the pieces with instructions to the other members which he sang or demonstrated on the keyboard or the organ.
The only time this lanky red-haired complex really comes to life is behind his drum kit away from them he seems like a fish out of water - he appears to move in slow motion and conversation is often monosyllabic or confined to a monotonous mumbling drone.
After an hour and a half of being richly entertained by the Airforce came the expected break, publicist Robin Turner hovered nervously on the perimeter of things — presumeably to pick up the pieces — requested a few minutes of Ginger's time and this is how we got on or not as you may judge for yourself.
Highlight of the interview for me were the moments when Ginger's eyes glazed over and the pupils rolled up into the upper lid leaving me conversing with two white sockets!
"I've had the idea for Airforce for a long time," began Mr. Baker, "Er and er when I came back from Jamaica, being on holiday and that, there didn't seem to be much happening Blind Faith-wise and I got together with Chris and Stevie at the cottage y'know, and a few sounds were very nice.
Then Rick got interested and I just got together a lot of people who could do it! They were all people I worked with before. I have difficulty getting my ideas over to some musicians but not to these people they sort of help.
"It's not possible to say how permanent Airforce is as a group — that will depend on circumstances but I've got very involved wiv it cos it's so good. (chuckles) If you're a 'hooray' it's a Super-band I suppose — it's a 'good' band (more chuckles).
We're just trying to do new things — things that haven't been done before.
"There is no comparison to be made with anything that has been before - we took the name from a section of the Duke Ellington band which is affectionately known as the 'Airforce' we're all inclined to fly sometime!"
This remark was emphasised by the vanishing eye-balls trick. It was when I referred Ginger's earlier remark concerning Blind Faith and the fact that three quarters of BF were in Airforce that the bad vibrations began to fly!
"No — I dunno. That's something we haven't talked about at all. Stevies' doing a record and everybody's got their own thing but I've not said that Airforee is a regular band. It's just a band for now and again. I'd like to see it as a full time thing but we can't seem to do things that way.
"There weren't any differences between us and Eric Clapton. Originally it was thought that Blind Faith would tour with Delaney and Bonnie but when I came back Eric was doing that on his own. The concept of Airforce was formed while he' working with them... I don't really like any of these questions about all that. I don't think it's got anything to do with anything at all."
I took evasive action by pointing out that it was Ginger who first mentioned Blind Faith and I thought most people were interested in what was happening with that - Mr. Baker disagreed violently and seized hold of my scribbled questions pointing out the name 'Clapton' amongst them as proof of my felonious intent.
I tried changing the subject as to whether Mr. Baker felt there was any substance to the argument that no group can really achive much musically unless they were of a permanent nature enabling them to take roots and form thier own identities.
"Bullshit!" said Mr. Baker.
"After the first two gigs I've got to go away to do something. I can't expect the others to sit around doing nothing and if when I come back they are involved in something else - that's the way it goes."
(Chuckle).
"People kept getting on to me to try it. I read the story and I dunno whether it's a good story or not — I don't have to say too much. I'm not the star by any means. I don't appear till halfway through then I finish up by being killed!
Does Mr. Baker see any significance in trend towards bigger bands?
"To an extent we're just doing what I've been doing for years. I played in an octet years ago in which we played what we thought was jazz and I've been playing the same thing ever since through the Cream, Blind Faith and Alexis Korner. People like what we play which good because if the people didn't like what we played there would be no sense in playing it - what were we talking about?
"... You can't go on doing the same thing for ever. Good Lord! I just thought it would be nice to work with all my old friends.
"I may not make much money out of it but that's not what it's all about. It's the music that is the thing. Obviously I'm going to charge a lot of money for it."
Was Ginger overwhelmed by the fact the Albert Hall concert was sold out before anyone had even heard the group?
"If I saw a group with those names in it - quite apart from mine - I'd think Jesus Christ I must hear that."
End of interview and just time for Robin Turner to make a profound remark about managers no longer managing musicians but musicians now managing their managers.
Ginger disconsolately kicked a drum about the floor.
"I can't put myself in someone elses shoes," he grumbled. I went to shake hands — it was at least a good clean fight - Ginger kept his by his side. I shook a limp wrist.
"Yeah," said Ginger.
"Yeah" Keith Altham.
If the break-up of the Beatles is causing you concern about the future of British pop exports — forget it.
American Impresarios have just advanced half a million dollars to our newest beat group, Ginger Bakers Air Force, without even hearing an advance disc or concert.
The money is part payment for an American tour of twenty-four shows starting in June. The final sum amounts to more than 1.000.000 dollars (over £400.000).
This was no hasty gamble. For here is a twelve-piece super group composed of potential bandleaders and led by a man who has just been voted the world's best drummer in a US national poll.
Ginger Baker, 30, is a name that is seldom tossed around on the Jimmy Young Show. Yet when he toured America with The Cream and Blind Faith he received the kind of fan worship that wouldn't have disappointed Tom Jones. Both these groups sold discs by the million. It's not only the Americans who are quick to latch on to Ginger and Co. as successors to the Beatles.
Last night the Air Force were picked to top this year's final pop prom at London's Round House. Ginger was at London's pop mecca, the Revolution Club, waiting to rehearse what he calls "his bunch of loons." when he told me:
"The fans have suddenly tumbled to the fact that any group I'm connected with is composed of real musicians—fellows who play their Instruments like top professionals. Thats our gimmick.
"John and Paul had great talent for writing songs but the Beatles were never great musicians. Nor the Stones.
"It has taken a long time to get together a bunch of first-class musicians who think alike.
"Most of them are making big financial sacrifices at the moment. Our organist, Graham Bond, is even disbanding his group, Initiation, to join us.
"Another reason people seem to dig our sound is that I let all the group have a go at writing music. More than half of them have numbers on our first LP.
"But there is a good dividend in return. I have made the band co-operative so that everybody gets a fair percentage.
"We have a vocal group in place of a brass section—two girls making like trumpets and two men like trombones.
"Every Instrument is amplified but this doesn't mean blasted ear drums. Volume can be reduced as easily as it can be turned up."
Ginger first played trumpet with the RAF Cadet Corps and then built a drum kit out of plastic. He practised up to ten hours a day.
His great passion is his new 150 mph Jensen FF sports car.
"That's one reason why I'm goin to America by boat," he said. "I want to take it with me.
"Besides, I've flown so many thousands of miles that maybe the law of aveages is against me now."
Next week the Air Force tour Scotland and the North, and Ginger will make it in his Jensen.
"That reminds me," he said. "I must send your article over to America because some fans will want convincing I'm still alive. It has just been announced over there for the fifth time- that I've been killed in a car crash."
When I left Mr. Baker I think he was considering doing next week's tour by canal barge.
GINGER BAKER put the fat brown wage envelope close to his ear and rattled it with scowling suspicion. "There should be two-and-tuppence in change," he said.
There was. So when he goes on to tell you that he knows to the last penny just how his fortune stands, you believe him implicitly.
At the age of 31 he Is a millionaire. On paper anyway. Which, if nothing else, puts him in a class of his own among the world's greatest drummers.
However With the red haired Mr. Baker, there is plenty else.
He has to be both seen and heard to be believed. His music is as wild, compulsive, complex yet strangely disciplined as his life-style.
Stories about his prowess behind the drums rival those of his magic touch with money. How, at one recording session, in the middle of an Intricate drum solo, he aimed one of his sticks with deadly accuracy at an offending group member, and carried on p1ayng without dropping a beat.
Ginger has been hotly tipped to win next week's Melody Maker poll for the drummer of the year.
It has been a long and spectacularly colourful haul to the top for the Lewisham boy who had set his heart on becoming a racing cyclist.
"I gave up when my bike got smashed in an accident and I found I could play the drums better than I could pedal," he says.
After that major decision there followed 16 years of unstately progress. From the old trad bands up through the super-star groups of Cream and Blind Faith, to Air Force, the group of "guys I like playing with and know can play."
Now, one Albert Hall concert, a double LP, and several sensational gigs later, AirForce are one of the most potent forces in the '70s pop scene.
Air Force were Just winding up a long and steamy recording session. Outside the Barnes studios, Ginger's low gleaming steel-blue Jensen spread its £6,000 length along an impressive stretch of kerb.
This and an imposing house in the poshest part of Harrow's very straight stockbroker belt, are the only outward concessions he makes to the conventional millionaire image.
So far no one had felt the wrong edge of his drum-sticks. But as he fired off a battery of complicated directions in a voice punctuated by vivid expletives, there was no mistaking who was boss around here.
"I've had all your committee-run groups with everyone having a vote what happens," he says in language which has to be diligently pruned for print purposes."It's not power I'm interested in. But I know when I'm right and I say so."
Both Cream and Blind Faith were abandoned when they did not go the way he thought they should. "Ever since we made it big with Cream I have invested my bread well."
The bread gets buttered better and the butter spread further each year. Nigeria is the current focal point for his investment. He is hoping to set up a home there.
"I'm not a capitalist. No one needs more than enough to see their wife and kids right for life." Ginger reckons that his wife Liz and his three young children, Ginette Karen (nine), Leda Kirsten (two and a halt), and Kofi Streatfield (one and a bit), are now in that happy position.
"So I spread the bread around a bit," he says. Suddenly it was time for his group's pay-out. "I've not paid them all they've earned. I've kept a bit back. They'll only blow it all in one go and they'll be glad of this later. You know what it's like.
Ginger Baker does understand money as well as he understands music.
Press 1969
FAREWELL SHOW SADDENED THE CREAM
by NICK LOGAN
The deification of the
Cream
was completed at the Royal Albert Hall around 11 o'clock on Tuesday of last week when the pulse of the last of their two encores melted into the tumult and applause and when the last clap and the final heartfelt plea of "God Save The Cream" had faded away into an atmosphere of high emotion.
Five thousand united voices hit a cry of rapture and a shower of confetti launched from the front row cascaded over Eric Claptpn's bowed head.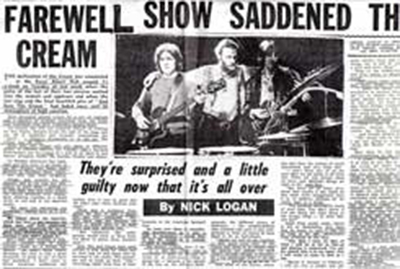 An ecstatic fan who had prepared himself all evening for this chance charged across the side of the stage and ran off in jubilation and triumph, brandishing his "spoils ' — Ginger's drumsticks — in the air. The Cream was all over.
Jack, Eric and Ginger will rise again in different guises, in different spheres, but Tuesday night's farewell performance put the Cream as a unit in its place in pop history alongside Haley, the Beatles, Presley and others.
On Monday afternoon this week, Jack and Eric were to be found at the IBC Studios near Radio Onederland in Portland Place where I was told, they were recording.
Ginger was notable for his absence and so too was any semblance of work when I arrived to find Jack, Eric and their American record producer Felic Pappallardi chatting together in a small circle at one end of the deserted studio.
"We were just discussing our breakfast", offered Eric as a welcome.
We talked about the concerts, which had been a sad occasion for them also and Jack confessed: "I was really depressed for two or three days atterwards. It was quite moving; I just didn't expect it."
Eriç who was wearing a magnificent crochet coat of many colours made by a loving fan, agreed. "We didn't really expect anything like that. It was a great reception, as good as any we have had anywhere. I don't want to knock American audiences but quality wise it was as good and we didn't play many encores over there."
There was a summons from above for Jack to take a phone call and Eric continued: "The first show was sad because we knew it would have to be kept short and that inhibits you.
"But otherwise the other groups would have to have been Cut down to about three minutes each."
Jack, Eric and Ginger have each written a new song for what will be their last LP and those will be recorded in the studio. The remainder will be made up from "live" recordings taken from four of their concerts in the American farewell tour.
As even now there is considerable bewilderment as to why a split is necessary I asked Eric to put the reason in as concise a form as possible. His answer, I think sums it up:
"It is like the Cream was a concensus or what we thought we could do as individuals within a group but — because of the nature of the line up, the diffent backgrounds, the different points of reference — the conglomeration that resulted was such a vast compromise to what we would all have liked to do as individuals.
"Maybe we will all get together to play again some time in the future and there is no reason why we should not appear on each other's records, though it would be a big publicised thing if we did so."
And what of the future, which has also been the subject of much speculation and very little fact.
"I don't think any of us are sure what we are going to do from this. There are just certain ideas we have, just idealistic things we want to do," said Eric.
"But there are so many pressures that maybe it has made all this seem more exaggerated than it is. In essence, perhaps all we really need is a break.
"This business devours so much of your time. You don't know if you are doing the right thing or the wrong thing — or even who you are!"
Apart from studio work, which is not so demanding, Eric feels that he wants to have a rest for as long as he can, perticularly from working on the road.
"This time I have no idea of what I will do as far as line-up and playing is concerned. I've got the sound; that is in my head. And I will work as close to that as I can.
"Maybe in January or February I will go into a studio and get some peopl ethere and try some things out it will very much be a trial and error thing."
What of the widely held belief that Eric wants to return to to the blues?
"The Cream never really played that much blues," he answered.
"I think We aimed to start a revolution in musical thought. We set out to change the world, to upset people and shock then. At the start we were going I play Elvis Pressley numbers — but what happened was that we fell into doing these long instrumental pieces. Really the Cream was just an instrumental group.
"When I play on my own it includes various blues figure twelve bar things, Chuck Berry... and loosley around that. The sound will be bluesy, but I am not going to swtart playing "Dust my broom," or things like that."
How does he feel about the intellectualising of the Cream?
"It doesn't matter how you do it as long as you like it. Some the lyrics we write might not mean anything to anyone else... but it's all above my head becausc I never thought we were good as they thought we were.
"The public appreciation always surprised me because I never thought we really got it together to deserve that much acclaim," he concluded with remarkable honesty.
Last time I saw Jack he told me that the Cream had really reached its peak while on the last but one tour of the State and it was sad that the British audiences had not had a chance to see them at their height.
At the two Albert Hall concerts 10.000 were witness to the peak they have reached while thousands more were unable to get in — an ironically it was their last performance.
Yes I do feel rather guilty about that — I must admit' said Eric, whose breakfast arrived at that minute. And I left him eating his cornflakes.
Preview & profiles
BLIND FAITH
Some groups develop stars, while some stars get together and burgeon into supergroups. One such group is Blind Faith, whose members consist of four of the most exciting musicians around today.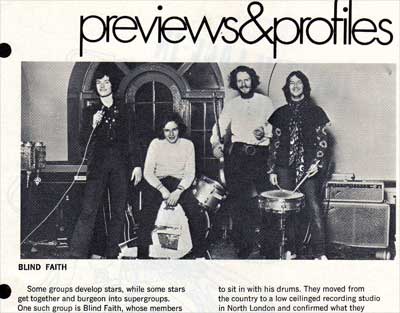 Not that the group (supergroup please) was a conscious decision; it was rather the drifting together of old friends discovering that time and the opportunity were both right. To the rock fan it would seem entirely natural that Eric Clapton, Steve Winwood, Ginger Baker and Rick Grech should be playing together.
The description "supergroup" was coined before there was anyone to fit it. And by the time there was, it had passed into disrepute, tagged on to any bunch of musicians garnered from an assortment of bands.
The pity of it is that in Blind Faith there is at last a group to restore the lustre of the title. A true meeting of four of the world's most exciting musicians.
The idea was born in the enthusiasm of Eric Clapton and Steve Winwood to get together in a recording studio. It was nurtured in the leisurely jams at Eric's country home or at the whitewashed cottage on the Berkshire Downs where Steve retreats whenever possible.
Ginger Baker, like former lead guitarist Eric Clapton, was restless with the lull Eric Clapton, was restless with the lull after the storm of the Cream split, and began to sit in with his drums. They moved from the country to a low ceilinged recording studio in North London and confirmed what they already knew. It was very, very good.
But for Ginger and Eric, with fresh memories of the break-up of the hugely successful Cream, it was still the triangle that they had found unworkable.
The answer was Rick Grech. The electric bassist whose work with an electrified violin had established him in the upper flights of British musicians gave the added depth, and meant that it was no longer a struggle to fill the gaps left by a trio; there was time to lay back and let the ideas flow.
After two months of playing together daily, Blind Faith made their public debut in London's Hyde Park on June 7th, playing a Free Concert for an audience travelling by car, coach and rail from all parts of Britain, from the Continent, Scandinavia and even from behind the Iron Curtain. A reported crowd of over 100,000 people attended.
The London press covered the event. The Daily Mirror called it, "one of the most remarkable and amiable gatherings of young people ever seen in this country."
The London Evening News reported it as "the farewell Cream concert." Huh? At any rate, Blind faith has just completed their first tour of the U.S. Their album is on Atlantic.
Following Blind Faith to the shores of a lake
Chris Welsh reports on Saturdays's free concert in Hyde Park
BLIND FAITH lead 150,000 to the shores of a lake and lo — they experienced a revelation, and even the scribes of the land noted it and said it was good. And the scribes aren't usually too hot on pop revelations.

There was something intensely Biblical about the unique free concert given by the new supergroup and friends in London's Hyde Park on Saturday.
Even if God wasn't an astronaut, he might well have played guitar, because it seems a powerful instrument to obtain due reverence.
The spectacle of thousands of people sitting on the grass, packed tightly together and simply listening to music in silence was quite uplifting.
Peace
"Bet the 'papers don't write anything about this — there's been no trouble," it was said at the end of the afternoon of peace, music and sunshine.
But the Sunday Mirror, and several other national newspapers noted how well the concert had gone and the Daily Mirror In a leader article stated: "There are not many countries where more than 100,000 youngsters could get together so peacefully and give the police no real worries let's spotlight (and applaud) one of the most remarkable and amiable gatherings of young people ever seen In this country."
Fans even came from America to see the first appearance together of Stevie Winwood, Eric Clapton, Ginger Baker and Rick Grech. There were 7,000 in the park at 9 am having slept all night, and then by 2.30 pm when the Third Ear Band began to play, the entire Cockpit area was surrounded.
TALKING DRUMS
with Blind Faith's GINGER BAKER by Chris Welch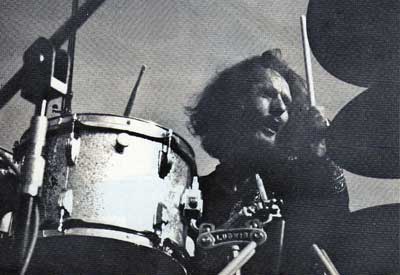 THERE was once a standard press picture caption for lady show business celebrities which ran: "Always happiest when among her flowers."
Ginger has a reputation as a hell raiser, which he does not particularly enjoy and is not particularly accurate.
With angular features and wild red hair, he seems a fearsome figure as he nightly whips up excitement with drum solos on riot-torn rostrums across America.
He is known to get into occasional scrapes with policemen and has been seen at the centre of odd scenes in the more rocking kind of night club.
But Ginger Baker at home, when he gets the chance, is a man of peace, dedicated to ensuring his tropical fish receive a balanced diet and a clean environment.
Reward
He has worked long and hard for recognition and financial reward and even now he rarely has time to relax with the simple pleasures of life in a detached Harrow villa with wife and children.
However, Ginger managed to take a few days off from Blind Faith's hectic tour of America last week and when I called at his home he was busying himself drawing plans for a proposed high speed cruiser while his family watched unmoved at the desperate attempts of the Rowan and Martin Laugh-In to raise a chuckle, in colour.
In just over a year in their comfortable and spacious house Ginger has ordered the transformation of his garden from a heap of wet clay to a pleasant piece of greenery with an attractive fish pond with fountains which he built himself with the aid of road manager, Mick Turner.
And inside Ginger has two large tanks stocked with an intriguing array of fishy delights of various hues.
I arrived at feeding time and was shown the outdoor pool in full operational order with concealed lighting and enough fountains and waterfalls to whip up the pool into a maelstrom.
"The fish love it," said Ginger with satisfaction, as great finny lumps huddled in what seemed to me cowardly fashion beneath the foam. We adjourned for a chat in the dining room.
"I'm going back tomorrow," he revealed. "I just came back to see my family. The tour has been quite happy. After the Cream tours we altered it this time so we could get time off and drive ourselves to gigs.
Finish
"I did about 1,700 miles in three days last week. We've been doing all concerts and we finish on August 24 in Hawaii. The kids have been reacting pretty well. A few people weren't too satisfied. Some people wanted Cream and didn't get it."
Did Ginger think Blind Faith was a better band than Cream?

"It's a different band. Things have been getting better all the while. I'm playing well lately. I do a solo every night — I don't think I could work without doing that.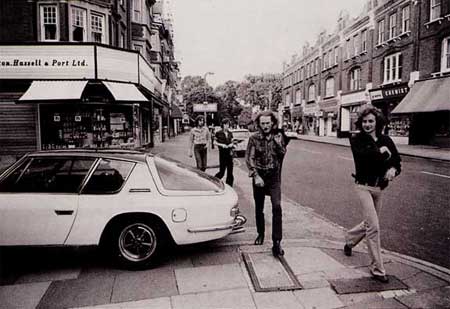 "The kids all want that, so I usually end up doing one. I need a number to build up excitement to play a solo and we do it on 'Do What You Like.
"There have been a few reports that Blind Faith is Stevies band. Well thats bull. I saw one review of our record which said it was Stevie's new band which is a bit puzzling because it's nobody's band."
I mentioned to Ginger that I had been recently replaying his original recording with Graham Bond, Jack Bruce and Dick Heckstall-Smith, the original super group.
"I don't really play anything. I just don't play records too much. You do a record and become very involved in it at the time, then you move on.
"Sometimes I play a Cream record. Some good records came out of that. Really, when I'm not playing, I'm not musically conscious. I like to get away from it all. That's why I like having a car.
Idea
"I'd still very much like to do an LP with Phil Seamen. Work with a big band? Yeah, that's a nice idea. I'm not dead yet — there's some life in me yet. Possibly some things like that will happen.
"There's still a lot of things I'd like to do with Blind Faith. There's a lot of tunes I'd like us to do. The band didn't really get together at first.
When we did Hyde Park I wasnt happy with my solo and Eric didnt get it together too well which is unusual for Eric. But since then hems got better and better. The first gig where it really started to happen was in Oslo."
Wares
His solo on the new Blind Faith album struck me as sounding African influenced, with slack-tuned torn toms thudding in waves.
"I've always been interested in African drumming. Nobody can play drums without being interested. Indian drumming is technically incredible but African drumming is more into feel and time.
"Indian drumming is also into time of course, but with African drumming you get an incredible feel. It often sounds simple, but try and spot where the the beat lies.
"Phil Seamen used to play me an African record and he'd say: "Right, where is it?" Sometimes I was right, but quite often I was wrong, and he'd laugh and tell me to have another listen.
"I first met Phil in 1960 or '61. I was playing in the Flamingo with Alan Branscombe. He used to be pianist with Johnny Dankworth. I went for the Dankworth job when Kenny Clare left — and didn't get it.
"Anyway, Phil was playing in Ronnie's in Gerrard street, and Tubby Hayes told Phil to come in and watch me. I'd always dug Phil ever since forever, but I had never gone in for speaking to people I didn't really know. I can't stand it myself when people come up and say, 'hello, I'm a drummer.' I tend to say — so what?
"But Mr. Seamen came over to say hello and we've been close friends ever since. In talking and playing together he saved me years."
Did Ginger ever regret not getting further into jazz and concentrating on guitar groups?
"I was always called a rock and roller in the days of jazz. For me, jazz has stagnated since Parker and Gillespie. There's nothing happening in it now for me.
"But I saw Max Roach with Elvin Jones and Art Blakey recently and he played the b...s off both of 'em. Max is incredible.
Aware
"But I think what we're doing in Blind Faith is jazz. Jazz was always the peoples music — whatever the kids who are aware like. They know what's happening.
"The kind of jazz you get in clubs now is purely musicians' music. If you've got a technique it's easy to play fast. But if you play slower tempos and play something good, the majority of people can dig it and you can communicate with your audience.
"Simplicity is really beautiful. That's the whole thing with me — to communicate with the audience."
"Nobody is above criticism,least of all me. I take a lot of criticism... you get bad reviews and you get hung up about it. I've had quite a lot recently. But I criticise myself. You go through stages of thinking you are great.
"There are a couple of things on the 'live' solo on the last Cream album I was trying to get off, and it's nice that I am playing them now. It's a thing that
involves playing triples with two feet and the left hand and rolling the cymbals.
Simple
It's quite simple actually, but it's nice to be able to go straight into it.
The trouble is when you are playing to an audience, they don't want to hear you practising.
"The success of a solo depends on circumstances — how I feel and the mood of the audience. I rely a hell of a lot on audience reaction. I always work hard at it, but sometimes I get annoyed at myself."
After 15 years as a pro musician and being associated with something like eight million dollars worth of record sales, Ginger still takes a pride in his work and maintains a desire for progress.
He never was a predictable musician, and never will be. His greatness is as an original player.
Press 1966
GINGER LEARNT TO PLAY IN SIX WEEKS
by JOHN EMERY
THE votes that poured in for Ginger Baker in "Beat instrumental's" recently organised Popularity Poll proved that although he plays with a group that has yet to crack the charts, his percusion skill has not gone unnoticed. His placing, in fourth position behind Bobby Elliot, Brian Bennett and Keith Moon, stamps him as a respected drummer both by beginners and professionals alike.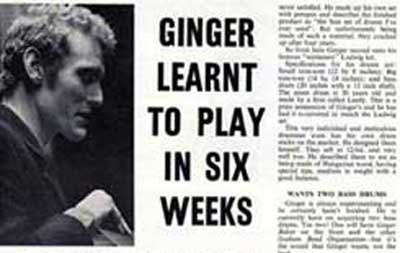 His skin work with the Graham Bond Organisation has made him one of the few stixmen on the scene today able to "get away" with a drum solo. This showpiece on stage doesn't seem so much in vogue today as it was a few years back, but with Ginger it's different. The small but comprehensive line-up of the Organisation gives plenty of scope to his all-action brand of drumming on his miniature Ludwig kit, and when he does rattle off into a solo you find yourself really wrapped up in what he's doing.
The story of Ginger Baker the musician stretches back to New Eltham where he lived with his parents—until he got the urge to turn pro. During his schooldays he tapped about with knives and forks, and showed interest in drummers and drumming. At the age of 16 he decided to do something about it, and bought a wooden snare drum, a bass drum and one cymbal for £3.This was the start. He received no tuition. "I really didn't feel I needed it" he said in a manner not at all conceited. "Before I bought the kit I somehow knew I could play".

And it was only six weeks after that he joined his first band. The Storyvifle Jazzmen were looking for a drummer and after auditioning Ginger, who kidded 'em on that he had been playing for three years, asked him to join.
This was back in the late fifties and the Storyville was the first of many jazz outfits he was to play with. Since, he has played with Terry Lightfoot, Diz Dizley and had a spell of residency at Ronnie Scott's during which time he played with many jazz greats.
IRISH SHOWBAND!
He started off in "trad" but has also had experience in "modern" jazz and "mainstream". And his background doesn't stop here either. He even had a spell with an Irish showband in 1959!
Ginger was drummer with the Ken Oldham Showband at the "Galtimore" Ballroom in London and at this time decided to put his spare time to good use by building his own kit.
Since his first £3 set he had moved onto another, consisting of Beverly and Ajax accessories then with the help of a friend, he had one specially made up for about £200.
But the adventurous Ginger was never satisfied. He made up his own set with perspex and describes the finished product as "the best set of drums I've ever used". But unfortunately being made of such a material, they cracked up after four years.
So from here Ginger moved onto his famous "miniature" Ludwig kit.
Specifications for his drums are:
Small tom-tom (12 by 8 inches); Big tom-tom (14 by 14 inches); and bass drum (20 inches with a 12 inch shell). The snare drum is 30 years old and made by a firm called Leedy. This is a prize possession of Ginger's and he has had it re-covered to match the Ludwig set.
This very individual and meticulous drummer even has his own drum sticks on the market. He designed them himself. They sell at 12/6d. and very well too. He described them to me as being made of Hungarian wood, having special tips, medium in weight with a good balance.
WANTS TWO BASS DRUMS
Ginger is always experimenting and he certainly hasn't finished. He is currently keen on acquiring two bass drums. Yes two! One will have Ginger Baker on the front and the other Graham Bond Organisalion- -but it's the sound that Ginger wants, not the look.
He also wants more tom-toms. "I want to be surrounded by drums" he said. Ginger told me his main influence has been Phil Seaman. "He came along to watch me at the Flamingo once. I had always been a great admirer of his, but didn't introduce myself. I seldom do to people. I must be shy. Anyway before 1 knew it he came up to me and said hello. We became friends and the advice he gave me knocked off about 10 years hard work."
Ginger is only too pleased to help other drummers and is unsparing in his advice. "I don't practise now" he said. "But when I started I used to spend up to nine hours non-stop at home a day. The more you play the better. "And I didn't just tap along with records. I used to let myself loose and play solos all the time.
"I also recommend playing in as many different types of venues, pubs, clubs, ballrooms and so on, with as many different kinds of bands playing as many different kinds of music as you can."
And that is the way Ginger has found and developed his own individual style. It is a fusion of the lot—trad, modern jazz, mainstream, pop, rhythm 'n' blues—they're the ingredients, plus of course Ginger's own "feel".
ERIC, JACK & GINGER TEAM UP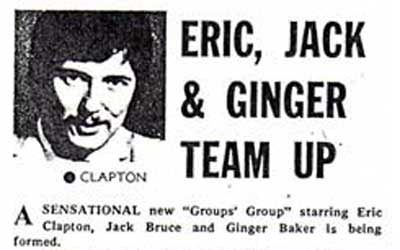 A SENSATIONAL new "Groups' Group" starring Eric Clapton, Jack Bruce and Ginger Baker is being formed.
Top groups will be losing star instrumentalists as a result. Manfred Mann will lose bassist, harmonica player, pianist and singer Jack Bruce; John Mayall will lose brilliant blues guitarist Eric Clapton, and Graham Bond's Organisation will lose incredible drummer Ginger Baker.
The group say they hope to start playing at clubs, ballrooms and theatres in a month's time. It is expected they will remain as a trio with Jack as featured vocalist.
SWEET 'N SOUR ROCK 'N ROLL
Melody Maker 1966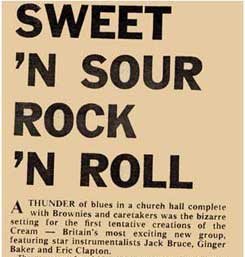 A THUNDER of blues in a church hall complete with Brownies and caretakers was the bizarre setting for the first tentative creations of the Cream — Britain's most exciting new group, featuring star instrumentalists Jack Bruce, Ginger Baker and Eric Clapton.
The group are feverishly rehearsing for their debut this weekend at the sixth national jazz and blues festival at Windsor.
Fans all over the country are excitedly looking forward to their first chance to hear the fiery three, who built tremendous reputations when they were sidemen with other groups. Eric with the Yardbirds and John Mayall, Ginger with Graham Bond, and Jack with Bond and Manfred Mann.
With the eyes of thousands of fans, and rival groups upon them, and the burning of boats behind them, how does Cream feel now?
"N e r v o u s very nervous," said Eric Clapton, sideboards bristling, guitar slung at the hip.
For rehearsal the trio were using the minimum of equipment, but still managed to produce enough sound to deafen Brownies and caretakers and rock the church hall to its foundations. "I'm only using snare and bass drums," said Ginger. "BUt with the full kit I'll have seven drums, including two bass drums.'
"We've only here" added Eric, "So you can imagine what it's going to sound like with full ampilfication and Ginger's tom toms as well."
The boys stood around in a sea of cigarette ends and prepared to run through a few numbers. Ginger, sporting a villainOUs looking beard, crouched over his drums, stool in its lowest possible position and right hand top cymbal sloping like a 1 in 2 hill.
Jack, wearing brown lace-up boots and a harmonica harness gripped his bass guitar for Eric to count them in.
Eric, wearing white bell-bottomed trousers, paused to shout i few coarse cries at some girl fans hanging about outside — not Brownies — then counted in the first explosion.
Eric and Jack sang in harmony, Ginger rocked, and Jack blew unison harmonica with Eric's guitar riff. It was a frightening sound. They only played a few choruses of each number, with breaks to work out bass drum and bass guitar patterns, sort out tempos and guitar and drum breaks.
Ginger, wielding a pair of enormous sticks — "Phil Seamen calls 'em Irish navvy poles" — suggested doing their "comedy number." This proved to be a jugband tune called "Take Your Finger Off It" with very traditional "Ja Da" type chords. At the end Eric looked at Jack and grinned "You mucked up the end.""Yes, I did, didn't I," said Jack coolly. It was rather like a confrontation between Rommel and Montgomery, with the mutual respect of two generals.
Deciding on a tea break, the trio drove off in their hired van, Jack at the wheel, managing to block main road traffic in both directions, while attemntin a U-turn.
In a nearby cafe we talked about the group's musical policy. Enthusiasm Was high. Everyone wanted to talk at once. "It's Blues Ancient and Modern," said Eric. "We call it Sweet and Sour Rock and Roll," said Jack."Yes, that's a good headline," said Eric. "What we want to do is anything that people haven't done before. Pete Townshend is enthusiastic and he may write a number for us."
"At the moment we're trying to get a repertoire up for all the gigs we've got to do," said Ginger. "We're digging back as far as we can, even 1927.""And we've got a lot of originals we want to do," said Jack. "Some are very strange. And there's numbers like 'Long Haired Unsquare Dude Called Jack' which Paul used to sing with Manfred.
Will there be any jazz feel to the music? "I'd say jazz was definitely out," said Eric, "and sweet n' sour rock and roll is in. Actually promoters are predicting that Sinatra will be the biggest draw in '67, ever since his sensational appearance at Ealing blues club."
How ready are they for the public?

"We're half ready," said Jack. "We've only been rehearsing for three days, and we could have 50 numbers if wanted, but we want to choose them carefully."

Said Eric: "Most people have formed the impression of us as three solo musicians clashing with each other. We want to cancel that idea and be a group that plays together."
What sort of presentation will the group have? "We want a turkey on stage while we're playing," said Eric.
I made a choking noise through a mouthful of tea that meant: "Would you repeat that?"
"Yeah, we just want a turkey on stage while we're playing. We all like turkeys and its nice to have them around. Another dada thing — I was going to have this hat made of a brim with a cage on top and a live frog inside. It would be very nice to have stuffed bears on stage. We'd ignore them—not acknowledge their presence at all."—Chris Welch
STIRRING - THE CREAM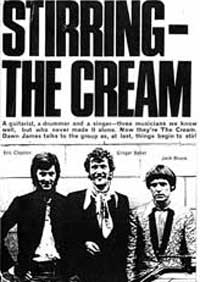 A guitarist, a drummer and a singer—three musicians we know well, but who never made it alone. Now they're The Cream. Dawn James talks to the group as, at last, things begin to stir'.
In a world where one hit record can earn an artiste of no exceptional musical ability up to ten thousand pounds, it Is surely time the outrageous talent of guitarist Eric Clapton made him some big money.
Everyone in the business raves about Erics playing. He is brilliant. He makes the guitar a beautiful, expressive piece of equipment, he pours his soul into it. It is something as moving as a symphony played on a full orchestra. But praise alone is no longer enough for Eric. He wants other, more material rewards.
He sat with Jack Bruce and Ginger Baker, the other Cream members, in a pub in North London, and talked about the new group.
"We formed the group because we wanted to play together," Eric said, plainly. "We get on well, we respect each others music, and we want to make it in a big way.
"I know I'm a well thought of guitarist, and Ginger is a well thought of drummer, and Jack a well thought of singer, but we are tired of having talent that doesnt make any big money. Personally, I'd like some big money. I've lived in dingy rooms long enough, Ive given all I've had to my music. Now I want something back."
Eric left the Yardbirds about eighteen months ago, because he disapproved of their music.
"I never wanted to make money from the wrong kind of music," he said, "and I was so sure about that, that I almost didn't want to make money. I was right to leave the Yardbirds, but I'd like to make some money now."
Jack and Ginger are both seasoned jazz musicians. Jack has played with Mike Cotton, Graham Bond and Alexis Korner. Ginger was previously with Graham Bond. They are all three nervy, sensitive, and wholly immersed in their music.
Jack is perhaps the most obviously nervy, biting his fingers and smoking one cigarette after another.
"Tonight I am not enjoying the performance," he said, in a soft, Scottish accent. "The P.A. system is no good here, and that makes me very upset."
"As well as wanting to play together, which is very important, we think we can succeed commercially with our music,' Ginger said. I asked them why, and if they intended to simplify their music?
"No," Eric said definitely, "but the fans are ready to hear something more genuine, they are looking for depth and truth. They want to be given something with substance, that has more to it than Just a nice noise."
"We are in fact doing more and more complicated pieces," Jack explained. "I'm writing a lot of them. I won't write a song unless it has a difficult pattern because there Is no enjoyment playing it.''
Eric named the group "Cream" because they are a group's group. "I didn't mean it like we are the cream of groups," he said. "Just like thick rich cream."
He is the only bachelor of the three, but the other two don't look married, if you know what I mean.
"Well, we aren't tied to conventional wives" they said with pride. "Our wives are as eccentric as we are! We keep strange hours, and have no routine. There is plenty of time for all that when we are older and have to conform."
Two fans came up and requested "Sleepy Time" and "Stepping Out". "Sure, we'll be glad to," Eric said, and the fans went away, happy. Love for their music, there is no star aura about them. Their followers listen enraptured when they play, but they don't bother them when they sit in the public bar during the interval and drink.
"That is the relationship we like between our fans," Eric said. "We don't want to be idolised as boys, we want to be listened to."
The way to make the Cream laugh, and forget the second session and talk freely, is to mention motor cars. Mind you, Ginger isn't allowed to talk about his motoring experience. He'd like to, but the others feel they can be more expressive about him than he could be. So they tell him to shut up!
"He Is the world's worst driver," they say. "He had a Rover 2000, but he wrecked it. He'd ruin any car."
"I have a Lotus racing car," Jack said. "it does seventy-five miles an hour in third gear."
Later, upstairs in the ballroom above the pub, about two thousand young people packed together like sardines, listening, entranced, to Eric and Ginger and Jack. The voice was good, the drumming rhythmic, and the guitar made you catch your breath and slightly shiver.
If there is any justIce in the music business, the Cream must have a hit. Music must give them back something material at last.
BRUCE FINDS HIMSELF VIA THE CREAM
Melody Maker, November 1966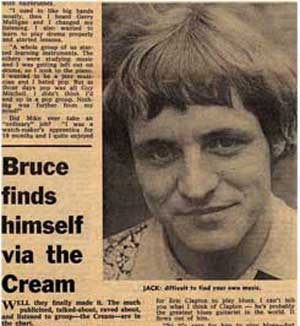 WELL they finally made it. The much pubilcised, talked-about, raved about, and listened to group—the Cream—are in the chart.
They've overcome all obstacles—including a big hang-up in the manufacture of the actual disc, "Wrapping Paper". Despite its late arrival in the shops though, the Cream had whipped-up enough enthusiasm among their followers to assure a good sale. All that had to be done now, was to overcome a lot of prejudice!
Well, look at the facts, Eric Clapton—he used to be a Yardbird, and then a Blues- breaker — a blues purist through and through. Then there's drummer Ginger Baker—early days with the Alexis Korner Band, lots of jazzers, and Graham Bond's Organisation. Another A1 bluesman. Finally bassman Jack Bruce—again a developing blues embryo with Korner, John Mayall, Graham Bond and many more.
Cream them well and you have one of the best blues bands in Britain, that's for sure. One snag—Clapton, Baker and Bruce weren't happy just to be the best blues band in the land. They wanted extensive popularity and atentive audiences that went beyond satisfying a minority group of blues fans. They had absorbed music that soared beyond the standard blues realms and it was this they needed to play.
"I must admit that we wanted to shock people," said Bruce thoughtfully, "there was a feeling of that."
Jack was referring to "Wrapping Paper". "We knew what everybody expected us to release. Then we started doing weirder, newer things and the shouting starts. 'The Cream have sold-out.''They've gone commercial.''They're not playing blues' — and all the rest. If only people weren't so prejudiced. Why can't they accept something for what it is? Not for what it was, or used to be like, or what they want it to be like!
"Naturally we're pleased at the success of the record! Let's face it — it's damn easy for Eric Ciapton to play blues. I can't tell you what I think of Clapton — he's probably the greatest blues guitarist in the world. It flows out of him.
"So it's easy for him to play blues—but far more difficult to go out and find his own music. Find yourself! Your own personality. The Cream's own music!
"This is what we're out to do — and I think we're succeeding," smiled Bruce mischievously. 'The trouble with most group's is they grab at things like horns, saxes, strings, relying on the outside for musical content. We want to work inwards, towards ourselves, playing music that has come out of us—like Indian music which works inwards all the time."
There was no stopping this Bruce in midstream! "You know what I mean. If you have a large group with five or six people the best you can do is get one thing going—one neat interpretation of a number—whereas with us nothing is the same. The best you can do -is to perfect what somebody else has written. Therefore improvisation is very necessary, vital, and popular.
"Do a hundred takes of a number in the studio and the best one will be exactly the same as the worst—only it'll be the ultimate version of the same number."
As is obvioUs from what Jack has said, his role in the Cream is fulfilling all his musical ambitions. Playing bass, harp and singing calls for "Independence", three different instruments, different lines, coming from one person—a quality Jack has always aãmired in Indian drummers, "they have independence of each finger.."
He's writing imaginative and complex numbers: "I like to build up word pictures—because then it's up to an individual's imagination as to how he interprets a song. Also I use sentimentality — I think it's a good thing and I believe in it. Personally I think I can go no further than the Cream — and I've worked with a lot of musicians. — NICK JONES
Excerpt from The Melody Maker - August 6, 1966
SUNDAY: Music returned to the festival when Dick Morrissey picked up his tenor on Sunday afternoon, and blew the first set with Ian Hamer, Phil Bates, Harry South and Bill Eyden.
Ernestine Anderson was given a warm reception for her delicate artistry with songs like "More", "The Telephone Song", and "There'll Never Be Another You". And she swung like the clappers!
Bobby Wellins was featured with the Stan Tracey Quartet, doing extracts from their "Under Milk Wood" suite. Then came the tremendously exciting Tracey Big Band on "Alice In Jazzland", with Kenny Baker on trumpet. The crowd, sitting it out In the pouring rain went mad, and cheered Stan to the echo. It was fine writing and fine playing, and deserves to be aired again soon where the audience aren't likely to be drenched continuously during the performance.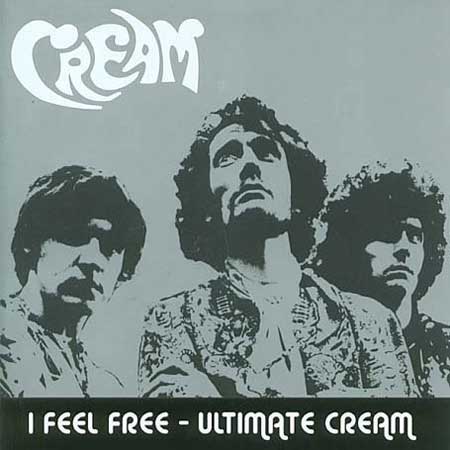 In the evening after Diane and Nicky's powerful 'River Deep, Mountains High" came the moment thousands had been waiting for—the debut of the Cream starring Eric Clapton, Jack Bruce and Ginger Baker.
They kicked off with "Spoonful'', "Sleepy Time", and Jack Bruce's harmonica and vocal feature "Train Time". Eric's incredible guitar induced the audience to shout and scream for more, even while he was playing more!
And Ginger's solo using two bass drums said everything. Called "The Toad", it sent the crowd potty.
The Action roared through "Harlem Shuffle" and 'Land Of A Thousand Dances', then at the end of the evening came Georgie with Harry South's Band romping through "Keep Your Big Mouth Shut", "Down For The Count", 'Papa's Got A Brand New Bag", 'Lil' Darling" and "Roll 'em Pete". Georgie sung beautifully and the band played with bite and fire.
Despite everything the Festival was worthwhile musIc-wise, and we hope the organisers won't be deterred from having another go next year.
THE CREAM'S L.P. IS RELEASED ON DECEMBER 9TH. THE TITLE IS 'FRESH CREAM' THEIR SECOND SINGLE IS ALSO RELEASED ON THE SAME t4Y- IT IS CALLED 'I FEEL FREE' THE FLIP: 'N.S.U.' - BOTH ON SINGLE: 591 011/THE L.P.: 593 DCI (MONO) &594 CDI (STEREO) MANAGED & DISTRIBUTED BY POLYDOR RECORDS LTD. FOR THE ROBERT STIGW000 ORGANISATION.
IF YOU'RE PUZZLED WHY THE CREAM DID 'WRAPPING - PAPER' READ THIS
by Richard Green
RECORD MIRROR, Week ending November 5th, 1966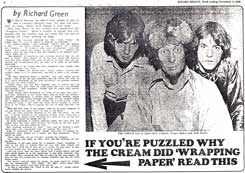 WE did it because we didn't want people to put us into a category straight away. We play soft numbers on stage, maybe we'll change it next time"
Thus Jack Bruce on the Cream's first single, first hit "Wrapping Paper. Quite a number of people had commented that the number was not really like the sort of material the Cream perform on stage.
Manager Bob Stigwood informed me that "Fresh Cream', the group's first LP, is to be issued by Reaction December 1.
"It's almost finished." Jack revealed. "There's just one number to do." — "He hasn't learned to sing it properly yet," cracked Eric Clapton. — "It covers a wide range of material." Jack continued. "Eric plays two guitars on one track." — "There's one where I play the bass with a stick after playing it the ordinary way." Ginger Baker put in.
You shouldn't be limited by only recording material that you can play on stage." Jack opined. "If we had four tracks like America we'd use them. People who come to see us in clubs may not buy records and record-buyers may not only go to clubs, so we please them both."
I wondered if the Cream had ever considered using session men, perhaps including some brass.
"No. We couldn't use session men." Ginger replied. "Session men couldn't follow us if we improvised, you have stick to the arrangement."
"We often improvise during a number." Eric said, taking up the theme. "One of us will play something and the others will catch on to it. We're developing all the time, we haven't got anything planned. We'll just see what happens."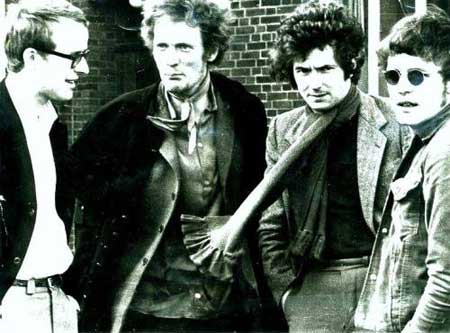 "Indian music like the Ravi Shankar type is mainly only for instruments, has been going for 2000 years and that's still developing—inwards," Jack explained. "People said we would need another man but we don't."
"Some groups spoil themselves by trying to do what they can't." said Eric. Members of the Cream often lead on from one another's remarks, demonstrating a strange kind of linked thinking among them. "They add strings because they think it's the modern sound. But it doesn't always work. The Troggs are a good group. I don't necessarily mean I like them but what they're playing is getting down to the basics. They're playing the sort of thing that they can play".
What did Eric think of the current trend for so many guitarists to try and imitate his guitar style? Or that of Jeff Beck?
"It's no good guitarists listening to me and Jeff Beck," he told me. I always listened to the American artistes. Peter Green has a good head, he knows which direction he's going in, but on the new John MayaIl record he sounds like me."
As three musicians in entirely different outfits, did Jack, Eric and Ginger have any fears about forming the Cream in the first place? Why, in fact, had they taken the step? Bob Stigwood answered for them: "They had all reached a point where they were dissatisfied with the position they were in."
Nods of agreement all round. Ginger went and sat behind Mr. Stigwood's desk, picked up a money box and announced: "Right. You're all fired."
"Don't take that, it's all I've got." cracked the manager.
"Go upstairs and clean my flat," Eric told him grinning all over his face.
Returning to the sane scene for a moment, Ginger remarked: "I went to see Eric at Oxford when he was with John Mayall and asked him if he'd like to join me in a group. He said okay as long as Jack would join. We asked Jack and he agreed."
Jack had never been the main singer with a group before and had some small doubts as to his capabilities in that field. However, Eric and Ginger soon convinced him that he could be the lead singer. He says he has two voices—one for rousing numbers and one for more bluesy songs.
"We weren't worried about the music, we knew that'd be alright, just the personalities, " Eric added. "We didn't really know each other and we weren't sure how we'd get on."
"It was a calculated risk, which is why we took it," Ginger stated, nicely settling the matter.